My little man had a birthday! I want soo badly to make birthdays special. This year was hard for me. NO money. New baby, very tired.
Our paycheck does not stretch far enough. And we spend all of out time beating ourselves up over it, not helpful I know. I had bought a nursing cover up with baby shower money and it was missing it's buckle (it was $30.00 and I felt guilty about it anyway) my husband took it back to Babies R US and got our son some Star Wars Legos at Toys R Us. I bought two Veggie Tales DVDs on veg Source. One is a spoof on Lord of the Rings and they were a big hit with him. The lady I bought them from is great and I am now holding a Tupperware catalog party in Texas! I also got a video game system from a lady on Freecycle. Somehow, it came up that had a newborn, and she had some of the most encourging words and now SHE IS PREGNANT.
I wanted to make a cake, got the kids to bed house cleaned up, went into our refridgerator..totally empty. Seriously, no eggs. I woke up my 12 yo to go to the store with me, and we tried to scrounge enough money for 6 eggs and lunch for the next day. SO frustrating. Now, I have good friends who would have given me eggs. Without question. I even have a close friend with chickens who is soo generous and kind to me. If I had told our church they would also help. It's just that they have soo many times.
OK...so, back to our point.
I made a cake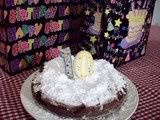 and there were great presents:
and for a day I let our big kid play video games. (this took a lot from me:)
our son is so special to us and it was so good to honor him for a day.