I have many excuses, none very good ones. Whenever the situation arises in a group to make a craft I get many looks of pity, or someone reaching over and tweaks mine until it's right or sweet children ask if I want to trade. It really is that bad.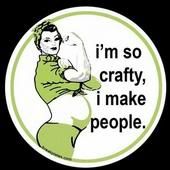 You already know how much I adore
Melissa
. She has a regular feature titled "Under $10.00 in under an hour." She made these
and gave a tutorial using these three items from the Dollar Tree: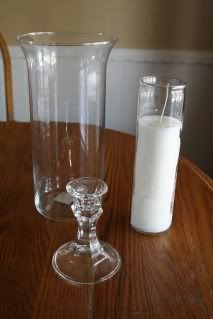 It looked so easy that even I could do it. I decided to use coffee beans. I had a really hard time finding unground, whole coffee beans for a price I was ok with. Who knew? Anyway, I got all the supplies and my handy glue gun and a card table ready. My daughter walked by and took off all the price stickers and decals. I had forgotten that Melissa mentioned needing to do that:) Melissa also mentioned that you need to find the center of the vase. Nah, I'll just eyeball it. NOT a good idea. It really does matter! They were all wonky and crooked. Dumped all the coffee out, ripped them apart and walked away. My son and I stood over the vases trying to remember how to find the center of a circle and knowing this should be simple. We walked away.
My artistic husband found them. Immediately figured out what I was doing: glued them, decorated them and placed them on the mantle. The wrong mantle in the wrong room and in the wrong place. Can you tell I am really annoyed that he fixed my mess:)
Here are "Ours". Who knew something so simple would become a group effort:)
Linking up at Works for me Wednesday,
We did it! Wednesday
,
57th Penny Pinching Party
,
Make it Yours
,
Show and Tell
,
Strut Yourself Thursday
,
Transformation Thursdays
,
Show off your Stuff
,
Hooking up with HOH, Get Your Craft on,
Feature Your Sassy Site,
Look at me Im so crafty!
,
Im Lovin' it Fridays
,
Frugalicious Fridays
,
Feature Yourself Fridays
,
Favorite Things Friday
,
Whatever Goes Wednesday