The Fall Festival was great! I was so glad we were able to go! The Girls' Club sold their homemade soaps and Playdough and made $21.00.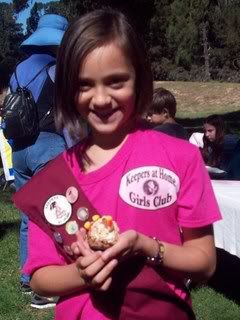 We then went to our the new library in town and worked on our Bible Study on kindness. The girls are also keeping a journal each day on ways they were kind and on ways that they could have been kind but passed up the oppurtunity.
While we were gone, my husband was home. My oldest son and I have been moving Rubbermaid totes of stuff out of the garage to the backyard for the fumigation. My husband reorganized the garage. He didn't leave room for the totes that are temporarily in the backyard to be returned. He also made the things that I need to get to unaccessible. He meant well and worked all day and killed his back. I came home to pack for camping and couldnt find or get to the sleeping bags. I felt violated. He felt unappreciated. I cried and bawled. He couldn't figure out what my problem was. Then he noticed that a tire on our van was totally unsafe and worn down low. It was 6:30. We stared at each other-our 12 year old interupted to tell us HOW I had ruined the tire. We tried to figure out how I could get the van in to Big Brands tomorrow before camping. (My husband leaves for work at 5am) I called Walmart to see when their tire center closes and they said they would squeeze us in. They were sooo great about it. Now I need to figure out how I am going to pay the car insurance tonight...
It has been in the 80's here for awhile. Now that I am going camping and staying in a hotel with a pool (during fumigation) the weather cooled WAY down and the wind picked up:)