My husband's grandparents live a few blocks away. They have a beautifully, well planned yard with many healthy fruit trees on their small lot. Grandpa Great is reaching 90 now and not keeping up with his yard like he used to. While our 2 year old slept, I stayed home with our two littles while the "big kids" and my husband went over and picked nectarines. We had bags and bags and bags. I called a friend and plans began.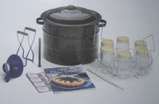 My dear friend had taught our young girls to make jam as part of a Keepers at Home project. This is actually a GREAT story and I need to blog about the club some too. We had made strawberry jam which proved to be quicker and easier than nectarine. This weekend fell together for us. My husband was off of work, hers and her three older boys were off on a Boy Scout event. It would be just us girls (and Gabriel who as of yesterday, is a month old)
I stayed up until 2am sewing buttons on my daughter's apron in preperation.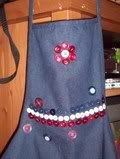 How silly is that? I would have been up anyway :( I have trouble getting to sleep at night.
We spent ALL DAY making jam. ALL DAY. It went quickly though. We talked and visited. Our girls ran in and out giggling. I felt very cool because this isnt something that I could or would do alone. We talked about Amish living and working together (I spent a good part of the day nursing or rocking my baby.)

We planned a Bible study for our families. We talked about ways to save money on food.
We also fed the scraps to my dear friend's chickens:
and quail.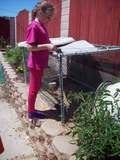 Felt very good to waste nothing, and spend a day with a friend.